PYROGEN SYSTEMS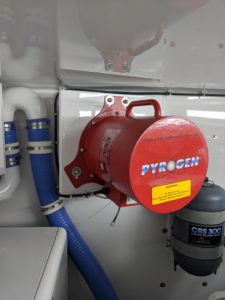 Carolina Bow Thruster (CBT) is the exclusive U.S. East Coast distributor for Pyrogen Fire Suppression sales, installation & service – including annual re-certifications.
Pyrogen is the world's first aerosol fire extinguishing system. It is the most advanced fire suppression system on the marine market and provides these significant benefits:
3 times more effective in extinguishing properties than Halon by volume
It is very environmentally friendly
No pressurized cylinders or piping – Pyrogen canisters are zero pressure
The smallest and lightest fire extinguishing system available
Simple wiring and installation
Pyrogen produces no aggressive acids, chlorine or bromides & doesn't deplete oxygen during suppression
Long service life – 10 years for marine applications
Compact and aesthetically pleasing dash mounting control unit
Even a small fire at sea or on a waterway can have serious consequences if it isn't extinguished immediately. Portable fire extinguishers are well suited for smaller fires in the galley or the accommodation spaces. In the engine compartment it can be difficult to use a portable unit as it requires that the operator get uncomfortably close to the hot oil fire flames and it may be difficult to get close enough to the source of the fire. With a Pyrogen fixed fire extinguishing system you don't have to access the engine room or lift a hatch, and thereby increase the fire intensity. All that is needed to extinguish even the most severe engine or bilge fire is to push two buttons. As a fail-safe, the Pyrogen fire extinguishing system activates automatically when the sensor cable in the engine area reaches 105 degrees C.
Call us or fill out this contact form to find out how a Pyrogen System could work for your boat and obtain a quote. You can also request re-certifications for your existing Pyrogen system.