BOW & STERN THRUSTERS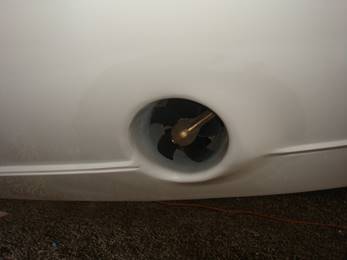 Once you have a thruster you are never going back! Stop yelling at your mate and never fear inexperienced deckhands. No more embarrassing Gooney bird docking which can cause damage. Dock and maneuver like a pro with bow thrusters or a bow/stern thruster combination. Both novices and seasoned captains
If you think that your boat has no room to add a thruster – think again and call Carolina Bow Thruster (CBT).  Over 25 years of thruster installs and hundreds of boat types we have only met one boat where we could not fit a thruster – only one!
CBT is a leading expert in bow and stern thruster system design and install. We know that no "one size fits all" in thrusters – we often replace OEM thruster systems because they simply cannot design for your boating style and conditions.
Primary New Install Brands: Vetus, Lewmar, Side-Power, MaxPower, Quick, WESMAR, ABT-Trac
Thruster Types: Hydraulic, Electrical (AC or DC), tunnel, external or retractable
Thruster Controls: Joystick or touch panel with RF wireless control available
Battery switching: Manual, automatic or remote
All cables, harnesses and other materials included
Service Brands: All
Some highlights of CBT's design and install methodology:
A scientific approach to thruster tunnel location involving laser metrics – no guess work or mistakes to cover up.
State of the art tunnel faring using the best fiberglass shaping and finishing techniques to optimize thruster performance while minimizing thruster noise, turbulence and boat drag.
An engineered installation and construction process using absolute top end materials, epoxy resins and biaxial fabrics for aviation like strength and longevity
Intuitive and ergonomic location and mounting of thruster joystick or touch panel controls. Useable in conjunction with engine controls via custom mounts and brackets. And you can choose a wireless control option.
Electrical installation per the ABYC code – the governing body of boat building systems installation.
Optional additional thruster motor cooling to extend thruster run time.
Use of high end, slim profile American batteries with high discharge rates and very long life for both thruster performance and easier placement that minimizes gear storage impact.
Battery charging system alternatives that are designed foremost for boat safety and also provide peak battery bank performance.
Call us or fill out this contact form to find out how a bow and/or stern thruster system could work for your boat and obtain a quote.
And remember, CBT offers a lifetime installation warranty on our materials and work.